Music at Bishop Gilpin

Music is at the heart of Bishop Gilpin, and we believe strongly that all children should have the opportunity to learn about and experience the joy of music. From Nursery to Year 6, every child enjoys weekly music lessons and singing assemblies with our highly-talented and enthusiastic music teacher, Mrs Jones (Classic FM Music Teacher of the Year).
Through building music skills and encouraging participation and musical curiosity, we boost our children's self-confidence, creativity and sense of achievement.
Our aim is to create a firm foundation for a lifetime of learning, by developing an understanding of a range of music and musical artists and engaging children in musical experiences designed to inspire them to lead a life filled with music.
Read our music curriculum aims here.
The Music Curriculum
Our thematic music units excite and extend the children's experience of music - from djembe drumming and ukulele to trumpets and ocarinas, our children learn a range of instruments as part of the curriculum. In weekly music lessons children explore rhythm, singing technique, instruments, aural skills, notation, composition, listening and music history.
Read our music curriculum planning overview here.
"The curriculum has many strengths ... among its particular strengths are music ... taught by specialist teachers."
Ofsted
Classic FM Music Teacher of the Year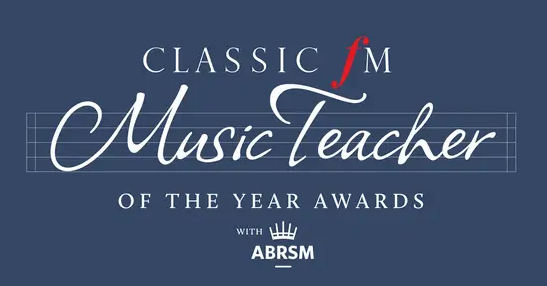 We are incredibly proud to share the wonderful news that Mrs Jones has been awarded "Music Teacher of the Year" by Classic FM.
When our children heard the news in collective worship, there was a spontaneous feeling of warmth, with smiles and applause in equal measure from our children and staff.
Mrs Jones has taken music at Bishop Gilpin to new heights, from a carefully constructed curriculum to inspirational teaching in class (and in a range of choirs and instrumental groups). Under Mrs Jones' dedicated approach, all of our children and staff have had their lives enriched by her passion, knowledge and expertise.

I am very thankful that Mrs Jones is our Music lead at Bishop Gilpin, as I am sure our parents, staff, governors and children are too.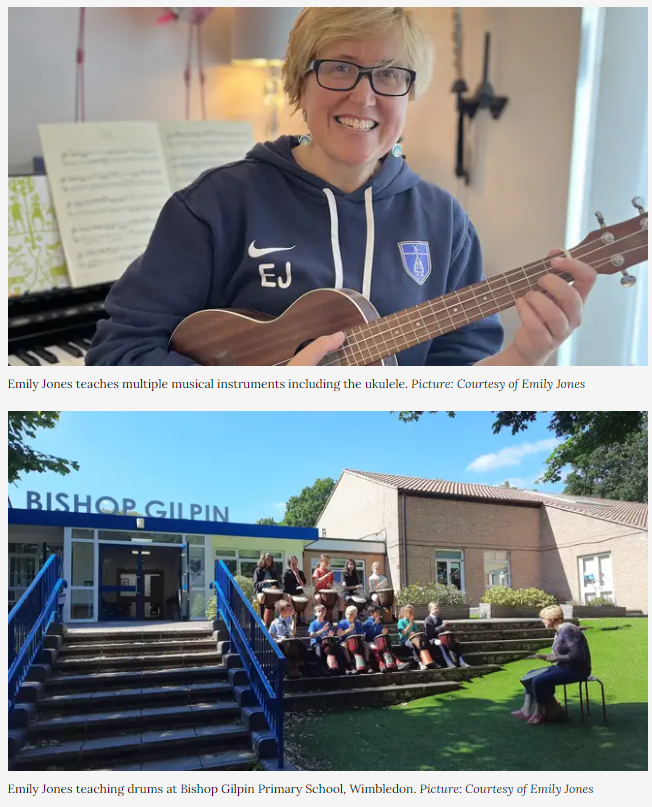 Lincoln Abbotts, ABRSM's engagement director, said: "These wonderful music teachers make an impact in the lives of those learning and enjoying music every day. After all the challenge and change of the last few years, now is the time for them to take a bow."
And now, it's time to reveal the winners. The first winner is...
Primary School winner: Emily Jones 🏆
Emily Jones teaches music at the Bishop Gilpin Church of England Primary School in Wimbledon, introducing all age groups to repertoire from Fauré, to Lin Manuel Miranda!
She has an extraordinary commitment to music teaching, running and leading an after-school Djembe Drumming club, a Key Stage 1 and Key Stage 2 choir at lunchtimes, and the Bishop Gilpin Community Choir for adults in her spare time. A keen musician herself, Emily also took up the trumpet as a fundraiser for the school, and sat the Grade 1 exam.
Described as the "pride and joy" of her school community, Emily has had a phenomenal impact in her school and produced a flourishing music department against the odds.
One person who nominated Emily said, "She is beloved by everyone who has had the privilege of being taught by her".
Music Clubs
Every child at Bishop Gilpin learns music and performs at special occasions through the school year. Children who would like additional musical opportunities are warmly invited to join one of our weekly music clubs.
Merton Music Foundation (MMF)
Approximately two-thirds of Key Stage 2 children at Bishop Gilpin learn instruments, either privately or through MMF at school. MMF offers music lessons in woodwind, brass, violin, cello, guitar, piano and drumkit. These lessons take place during the school day, and the school provides free/subsidised tuition to eligible children. Currently 128 MMF instrumental lessons take place every week at Bishop Gilpin.
To apply for lessons, please register with Merton Music Foundation. Please note that the number of MMF lessons is limited; when we have too much demand it is necessary to have waiting lists for certain instruments.
Sign Up For Lessons / See Our Fees / Contact Us
Woodwind (flute, clarinet, recorder and saxophone) with Margaret Byde – Mondays
Drums/Percussion with Iain Cameron – Mondays and Fridays
Brass and Ukulele with Billy Fisher – Tuesdays
Cello with George Pasca – Tuesdays
Guitar with Michael Hughes – Wednesdays and Fridays
Piano with Phil Mitchell – Thursdays and Fridays
Piano – Rob Brockway – Wednesdays
Violin/Viola with Alkistis Stogianni - Tuesdays
BG Community Choir
It's not just the children who enjoy music! We have a flourishing community choir for adults: the BG Community Choir. We rehearse on Thursday evenings from 8 till 9.30pm during term time. As well as singing a wide range of choral music and performing several times a year, it is a great way to meet parents from other year groups and people from the wider community. No choral experience necessary; just a love of singing and a sense of fun! For further information please contact Emily Jones: music@bishopgilpin.org
Please click here to see our lockdown version of Jazz Is Cool!
BG Staff Choir and Band
Last but not least, the staff like to get involved too! At the Year 5/6 Christmas Carol Service, and to the delight of the children and parents, the staff choir performs a surprise Christmas number. We also have a staff band who play for the children at special assemblies and who raise money for Friends of Bishop Gilpin. Click here to see when we're next performing!